I'm a huge fan of hand me downs when it comes to baby-anything. They grow out of it so fast and to be honest, they really can't tell if it's at $60 swing or a $360 swing. As long as it's safe and it works!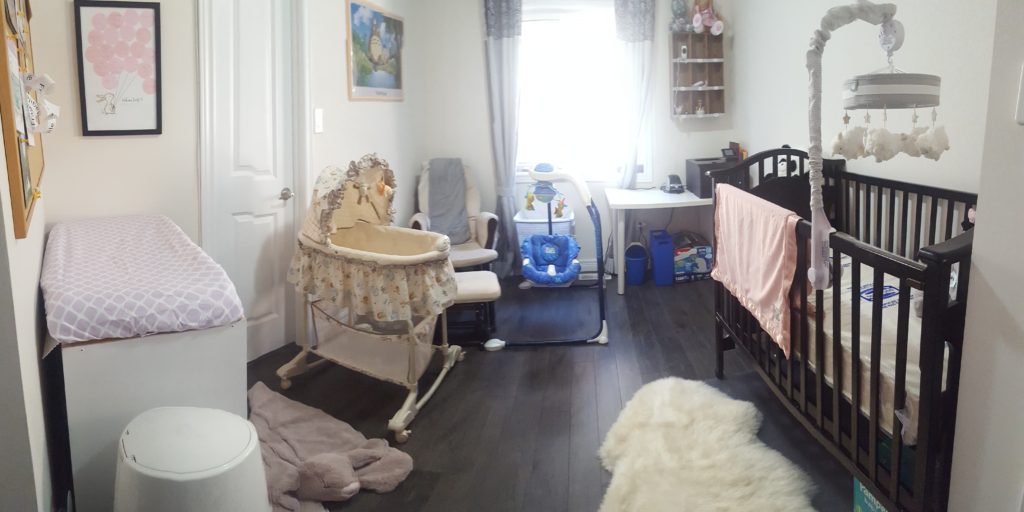 We converted our computer room to a nursery room, and we really did not spend much in the nursery room. As you can tell, I left my little work desk with my printer on it. So really, it's a very functional Nursery/Office.
Here's a quick breakdown on what we really spent on:
$9.99 x 5 on spray paint
$40 on new drawer knobs for our changing table (it's really just an old dresser).
$39.99 on new led lights for the closet (Home Depot)
$10 on the red light (Amazon)
$30 on baby hangers (Winners)
$100 on baby mattress (50% off ToysRus)
$70 on baby monitor (50% off ToysRus)
$100 for the shelvings
$100 baskets
Grand total: $370
We were really lucky that all the bigger items were hand-me-downs. We got the following from family/friends
Bassinet
Rocking chair
Crib
Diaper Genie
 Swing
Save money on DIY projects 
I'm not a huge DIY person, but we did re-purposed my old dresser to a changing table. BEST decision ever, we actually use the changing table really often! I've read many blogs where they say don't bother getting a changing table because you'll never use it. But for us, we used it every time she needs a change, it was also great for storage too. We all know I'm a huge fan of storages!
We took this old dresser and transformed it to our changing table: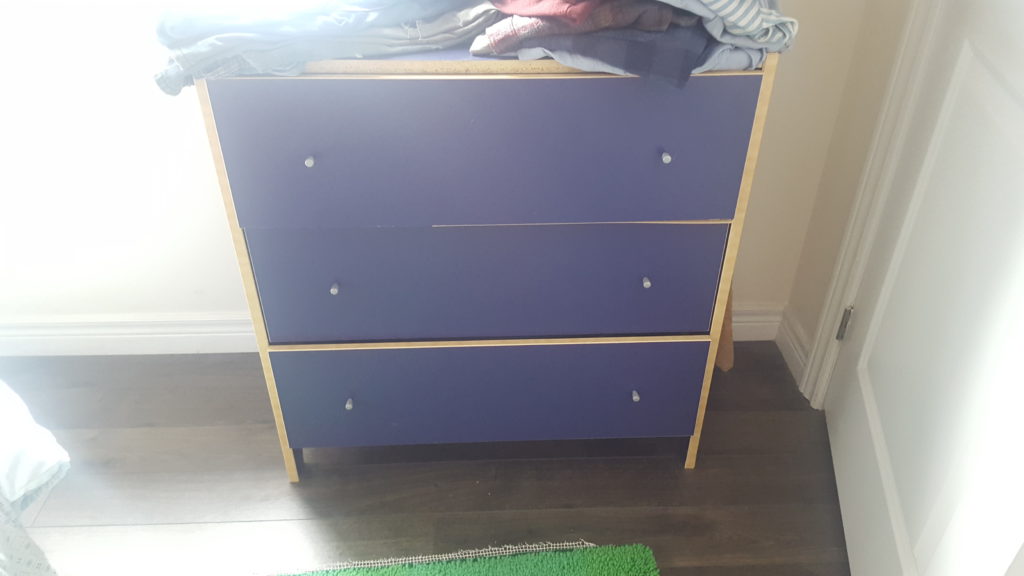 We used about 5 cans of the spray paint. My husband "forgot" to spray paint the sides, later down the road we might paint over the wood edges.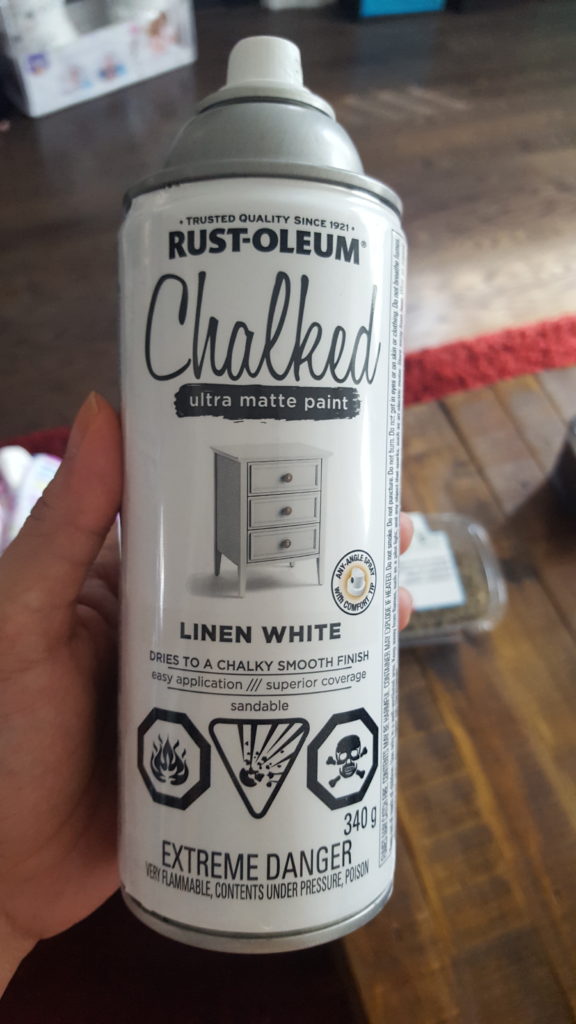 I used the Chalk-White Ultra Mat spray paint, and I loved how this turned out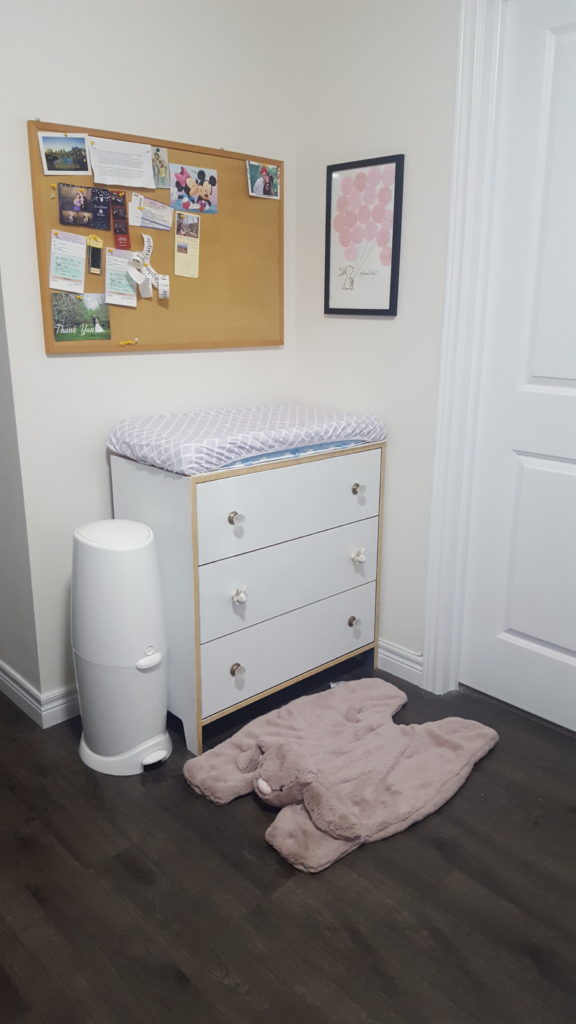 I also changed all the dresser knobs to make it more vintage looking. I got these from Anthropologie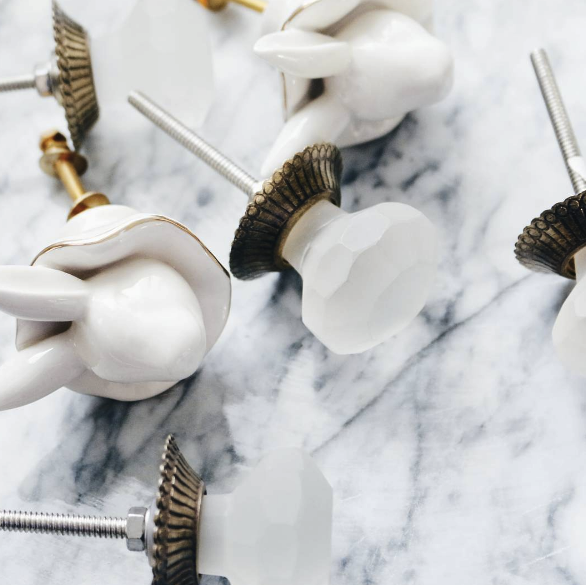 Aren't they super cute?! I love the rabbit knobs and the crystal with rustic gold trims. This is how I've organized my dresser.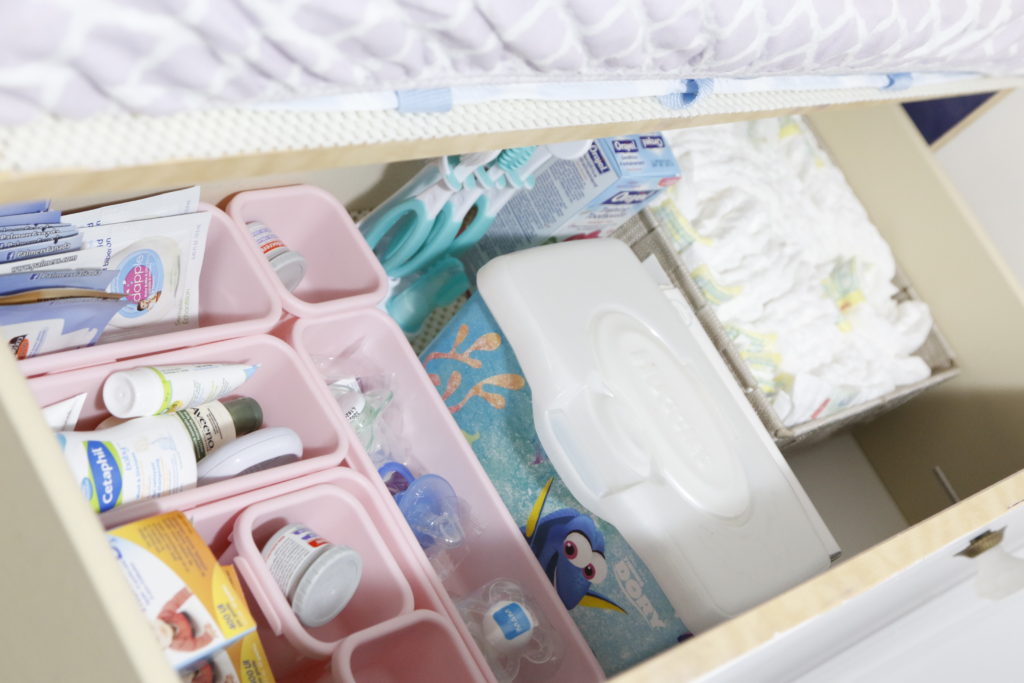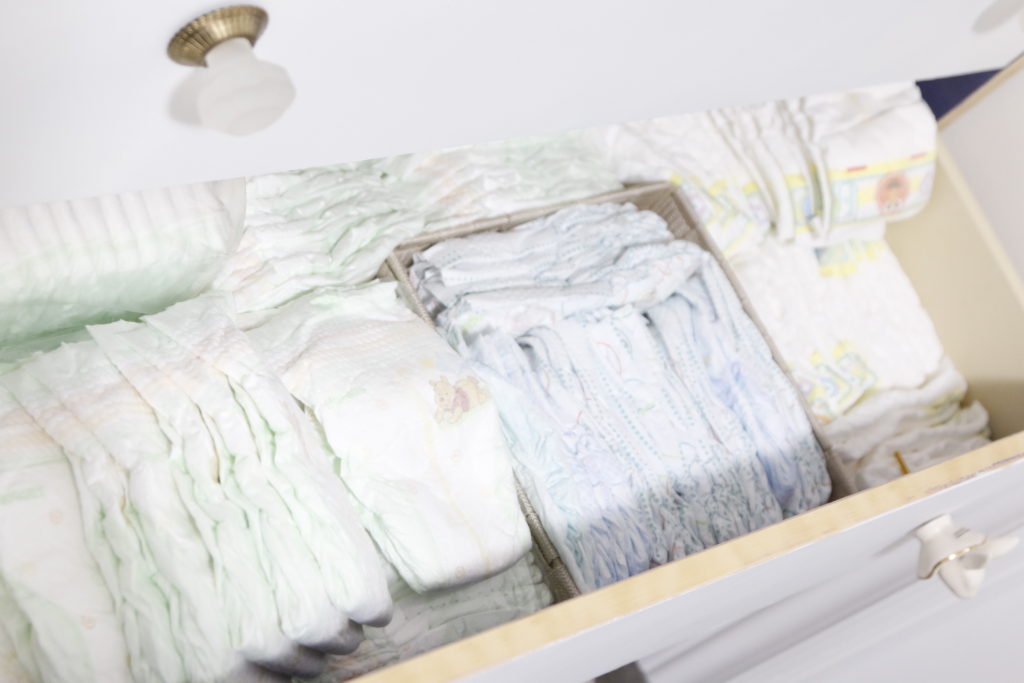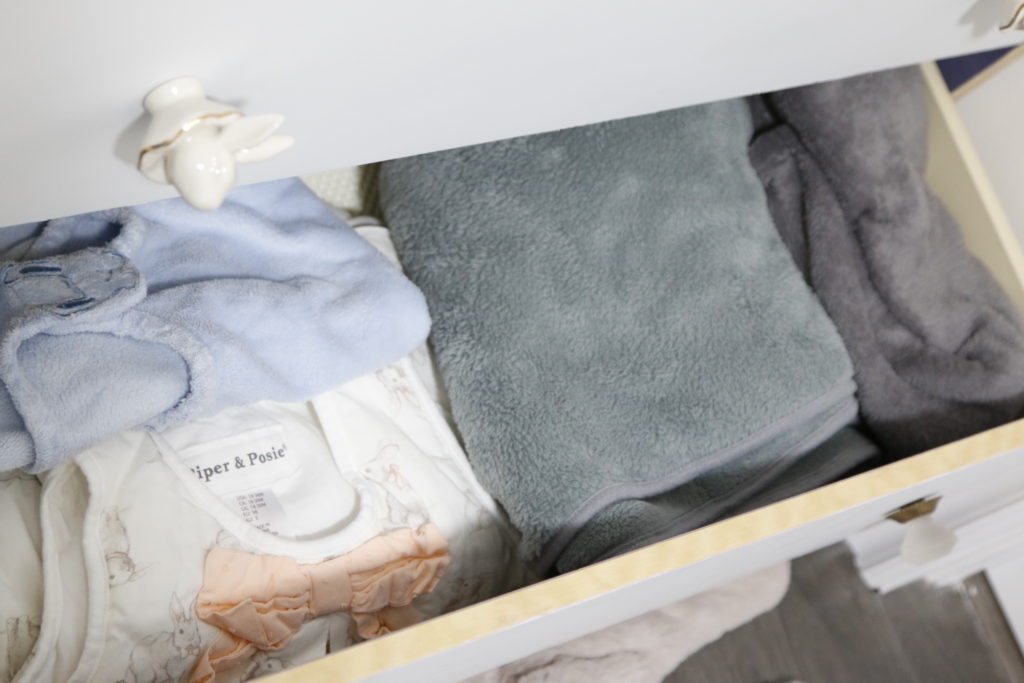 So, every diaper change I'm not searching for things I need to change Ariya!
The Closet 
This actually cost a bit more than I wanted, the shelvings aren't cheap, we got them at the Home Depot, I was pretty excited how it turned out. I bought the baskets from Bouclair! Can someone tell me why these baskets are so expensive?! I've actually looked everywhere for cheaper versions and I couldn't find it anywhere the baskets with cloth. Maybe it would had been cheaper if I bought them separately and DIY with the cloth. Maybe next place I will be buying the basket separately and sewing the cloth in the basket!  each basket were about $9.99 – $17.99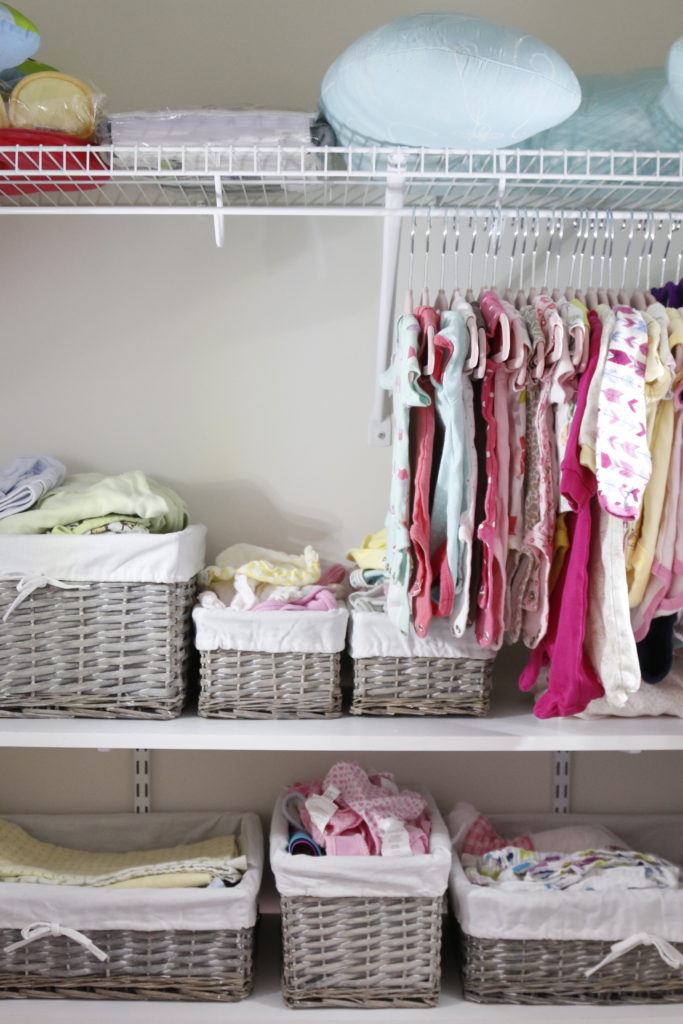 We also added a light fixture inside the closet, it made it so much brighter when I'm looking for her clothes/clothes and swaddle. No drills required! Just stick it on and voila, you are done! My kind of "reno" projects.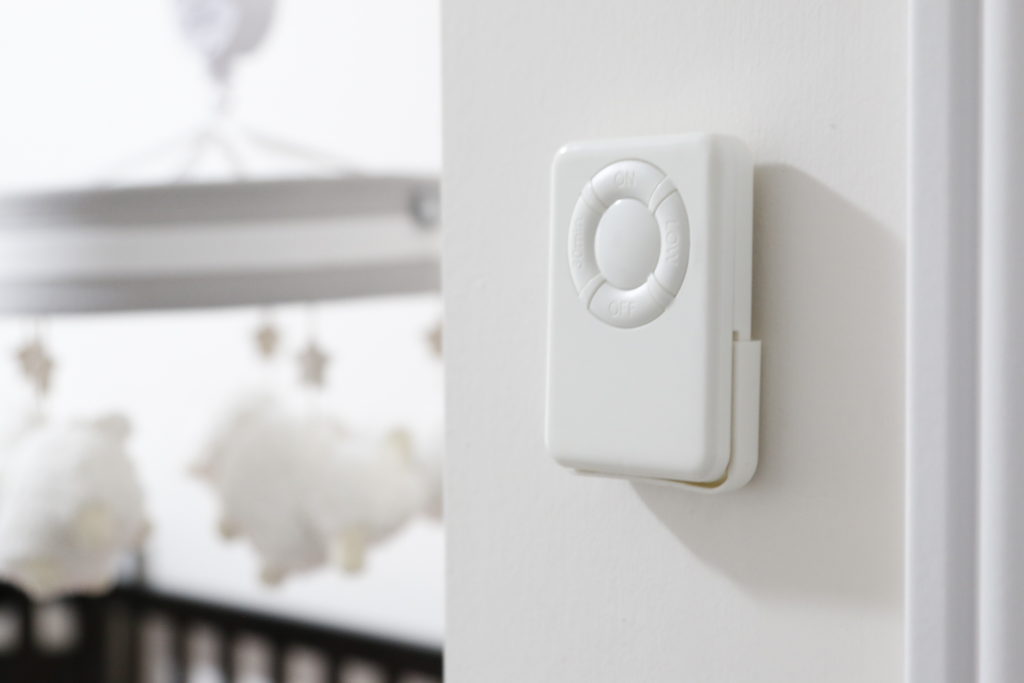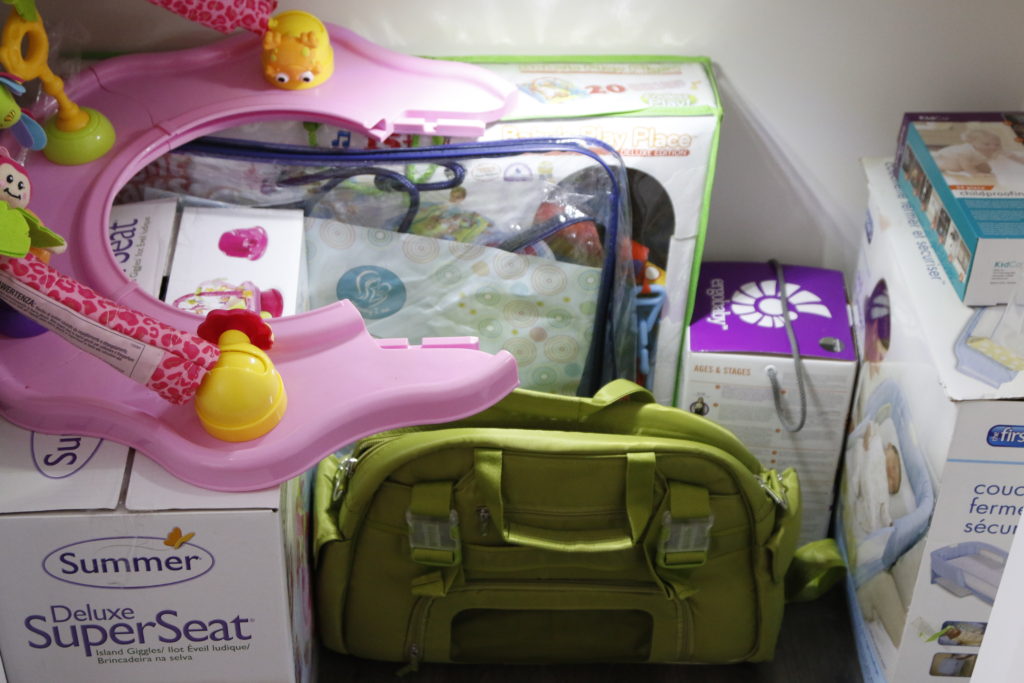 There you have it, my nursery room is complete! Very simple, yet very functional. These days, everything is about easy and functional.
Hope this post gave you some ideas decorating your nursery room.
Thanks so much for reading,